Dana James, FoodCoach à NY et LA
Claire Nouy - 2015-09-10
Dana James, médecin nutritionniste et docteur en psychologie a créé FoodCoach à New-York et à Los Angeles.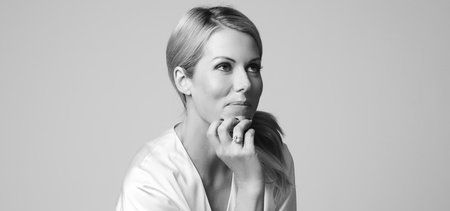 Nous cherchons une jolie traduction pour "Food Coach" afin de convaincre la merveilleuse Dana James de s'installer à Paris ! Dana James, médecin nutritionniste et docteur en psychologie a créé FoodCoach à New-York et à Los Angeles. Son approche holistique associe nutrition, psychologie, physiologie - et beaucoup de charme, de plaisir et d'enthousiasme !
Nous sommes très heureuses de partager avec vous son interview inspirante, qui parle de beauté, de café "french press" , de Yoga Kundalini, de biscuits Pierre Hermé - et de temps pour soi.
How did "Food Coach" come about? It's always evolving. Today, it's a functional medicine, nutrition and cognitive behavioral therapy practice. We also have our own line of raw, organic and high vibrational beauty protein powders and skin supplements to help synthesize collagen in the hair, skin, nails and eyelashes. I'm currently working with a scent formulator to create a botanical perfume line without synthetics or alcohol to help rebalance a woman's emotional state. My goal is for women to feel (and look) beautiful and that comes from what she eats, drinks, and thinks as well as how she sleeps and moves. I'm tackling the first three!
What is the first thing you do in the morning ? I drink rose water and take probiotics and my company's Collagen Activator. I go from beauty sleep to beauty pills!
Take us through a typical day. If I'm in NYC, I kiss my man upon waking, take my beauty pills then do a 15-45 min kundalini set of breath work and meditation. Then it's coffee! I make French press then enjoy it on my balcony while I strategize for the day. When I get ready for work, I'm often listening to a podcast to keep my brain engaged. I eat light for breakfast - a green juice or a smoothie made with my Beautifuel, almond milk and some superfood powders. I have a 20 minute walk to work and that's when I'll look at my emails and Instagram messages. My office is very serene and I use Astier De Villatte incense to keep the space inviting and warming. I start work at 8am but I take a 2 hour lunch (unheard of in NYC) but it's my time for sanity. I either take a fitness class or enjoy a relaxing lunch. I work until 8pm. I normally have wellness events I'm attending but if I don't, I'll enjoy dinner with my man. We'll cook together, listen to music, and just connect. Then I hit repeat for the next day. If I'm in LA, it's much slower and more about living.
You work in NYC and L.A. Where do you prefer living/working? NYC is a very masculine city. It's about achievement. LA is feminine city. It's about creativity and connection. I'm fortunate that I get to play in both cities.NYC activates me while LA decompresses me. We need both polarities for a rich life. What are some things we can always find in your fridge/​ pantry? Hemp seeds, bee pollen, avocado, cucumbers, lemons, almond milk, greens of some sort, organic eggs, frozen fruit and my Beautifuel (which is a vegan protein powder). And probably green juice if I haven't drunk it already.
What is your healthy non-negotiable of the day? My morning kundalini kriyas. If I skip a day, it's like eating junk food all day. My mind and skin will feel it. Meditation and breath work are instant vitalizers.
Tell us about your feelings in Paris this summer. ​I think everyone fantasizes about living in Paris. If I could speak French fluently, I'd be there! Although, the cookies from Pierre Hermé would get me into trouble. But on a wellness note, it was amazingly easy to eat healthy. Every restaurant I would stumble across (i.e. no guidebook or friend's advice) was either biodynamic, gluten-free or had green juices. Perhaps I'm attracted to the decor of places that offer a more high vibe menu but I was very impressed! I also noticed how the Parisians just enjoyed life. In NYC, everyone is in a rush and it sadly it shows on their face and body.
What are the plans for your business ? I'm writing my first book where I've developed four archetypes of women based on their body shape. Each of the archetypes requires a different diet to rebalance their biochemistry and mind. It also delves into the psychology of eating and resolves the "I know what to it, but I just can't seem to do it". I'm also being open to the opportunities that come my way!
Prenez rendez-vous pour une
consultation Holistic Skin™
avec une praticienne holistique formée au protocole Holistic Skin™ au concept store