Tatiana & Alexander : les yogi amoureux
Claire Nouy - 2015-10-13
Tatiana Bouru-Avila et Alexander Avila forment un couple captivant : à la fois yogi et amoureux, ils évoluent côte à côte dans la pratique et l'enseignement du yoga.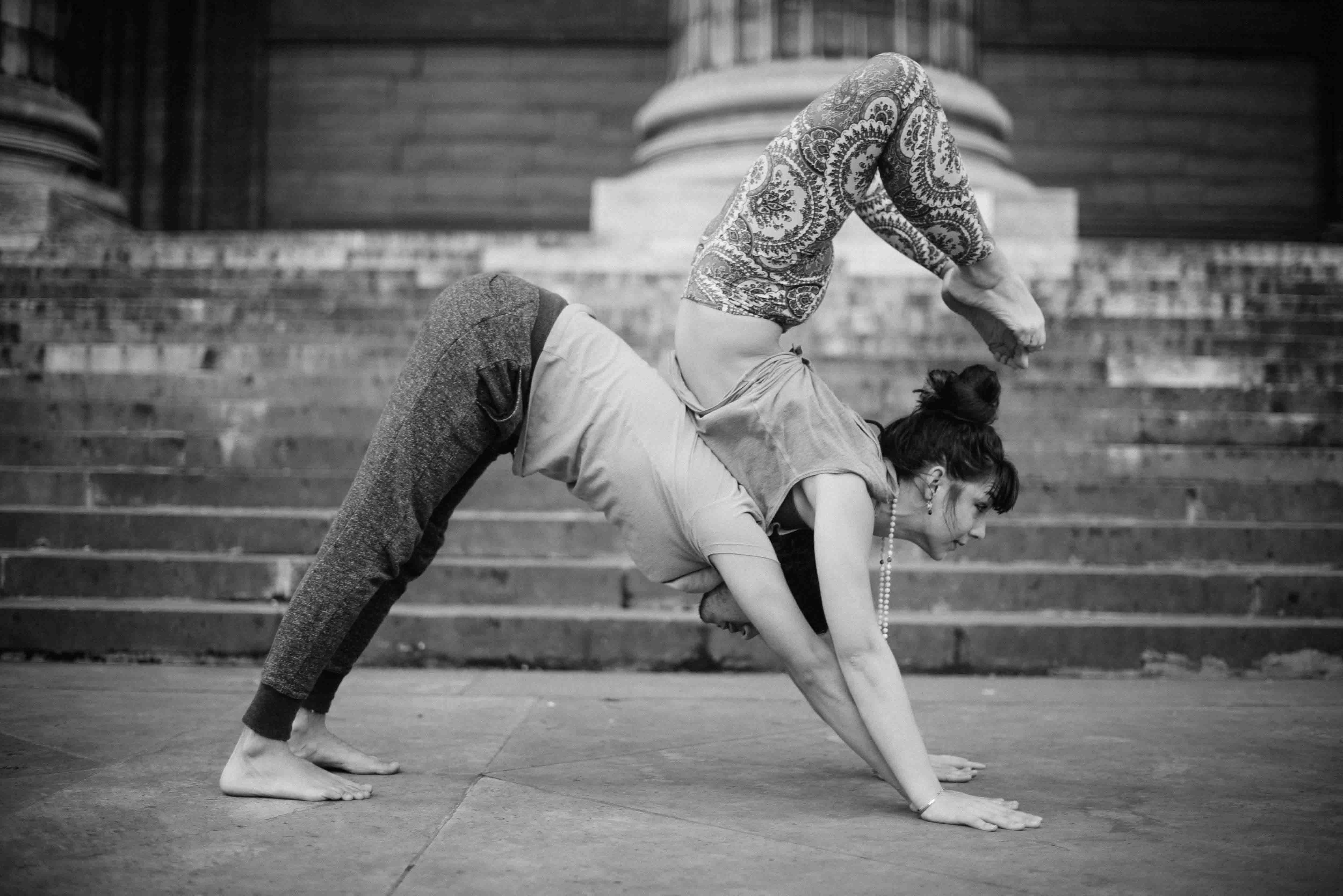 Ce sont les "Briohny and Dice" parisiens. Tatiana est née à Cannes et a rejoint NYC à 19 ans pour débuter une carrière de danseuse. Elle y a découvert le yoga et est tombée amoureuse d'Alexander. Né à NYC, Alexander a passé sa petite enfance au Guatemala. Sa famille a déménagé à NYC dans le Queens. Initié au yoga par Tatiana, il enseigne aujourd'hui le vinyasa flow à Paris. Tatiana est l'une de nos professeurs de yoga préférées et elle intervient souvent lors des événements Nubio dédiés au Yoga - nous l'adorons !
Interview
1.What originally drew you to yoga - Comment avez-vous commencé à pratiquer le yoga ?
Tatiana : I left to NYC when I was 19 for dancing. I went through some hard times as I was far away from my family. I tried yoga as everyone was doing that in NYC and I fell in love with it.
Alexander : my first yoga class was in New York at the Yoga vida center in Union square Manhattan. Tatiana convinced me to take the class. It was early in our relationship so of course I agreed!
2. When you are not on the mat you are... - Que faites vous en dehors du tapis ?
Tatiana : We enjoy going to the spa together...And we also love leaving Paris for the weekend. London is one of our favorite destination : very good vegan restaurants (Whole food- it's like our cantina, The wild food cafe and Vantra vitao) and most importantly great yoga classes! I love Indaba and Triyoga in Soho. Alexander : I love watching or reading about sports, hitting up some of my favorite vegan/vegetarian restaurants in Paris : Krishna Bhavan and Café pinson. Exki also has good vegetarian options. I also love cooking and I often try new recipes.
3. Do you follow a special diet - Suivez-vous un régime particulier ?
Tatiana : We are both strictly vegetarian, but we like a good glass of wine from time to time!
Alexander : My diet has slowly changed to vegetarian and sometimes vegan whenever possible. Ahimsa or (non harming ) is a big part of me giving up on animal based foods. But don't get me wrong , ask me if i enjoy a cup red wine or beer, most probably I would answer yes!
4. Do you cook together - Cuisinez-vous ensemble ?
Tatiana : Alex cooks most of the time (and he does it very good !). I do like cooking but I am often lazy when I come home at night. I must admit the option of muesli or juice comes out for me if Alex comes home later!
Alexander : Tatiana is so lucky I enjoy cooking. Before I became a yoga teacher I wanted to pursue a career in culinary arts. I finally become a yoga teacher - and I love it as much as cooking, even more ! At home I'm the chef of the kitchen, I like it that way.
5. Describe your day when it comes to meals, drinks, snacks form morning to bedtime - Décrivez-nous vos repas/snacks/boisson tout au long de la journée.
Tatiana : The morning I start my day with a lemon and water. Then I enjoy a tea and a smoothie. I blend together: goji berries, raw cacao nibs, banana , almond butter, spirulina, fresh seasonal fruits - I enjoyed grapes lately! Alex prepares the lunch for us both - often a quite fulfilling meal as the afternoon is often pretty long : grains, avocado,some veggies, or pasta with a soy cream and greens...Alex has cooked lately a delicious wrap with avocado, spirulina black rice, a side of salad it's amazing. Recipe for 4 wraps : black rice, comté râpé, flat tortilla wraps, 2 avocados blended with spirulina powder. During the afternoon, as we run a lot, we grab a warm drink together often in Starbucks as they have a soy option. I don't drink coffee at all, so soy chai latte is my favorite option. The night is always very light, it can be some fruits, some muesli, or a handmade soup that my hubby has prepared during his free time. The weekend we like to buy a good wine and enjoy it together!
Alexander : Well I'm a huge coffee lover, serve me up a good cappuccinos latte, hot chocolate anything along those lines I'm down 100 percent. I love green juices and smoothies but it's not in my daily routine. I'm not the typical yogi who's label is "I live off green juices and super foods". I try my best to stay on the healthy side though balancing my snacks to a healthy minimum. The meals I enjoy the most are probably my own homed cooked meals. There are restaurants I love but nothing compared to some homemade culinary creations!
6. What is one non-negotiable thing you each do every day to feel healthy/balanced? Avez-vous un impératif bien-être/équilibre good auquel vous ne dérogez jamais ?
Tatiana : I try to rest a lot as its really the key a good day - especially if I teach a lot, I try to do my yoga practice as often as possible. I like to have one day juice fast at least once a month. In Autumn I also like to have a "grape fast". We also try to go to the spa to take care of ourself and to also spend some quiet time together.
Alexander : The two things I feel is a must in my daily life is a yoga practice even if it's 10 or 15 mins. It really changes everything in terms of mood and the physicality. The second is going to a spa to replenish swimming, sauna, hamman, hot bath at least once a month. It's a moment to come a neutral place, helps me think clearer and makes the body feel great afterwards.
7. What is your favorite guilty indulgence? Quel est votre péché mignon ?
Tatiana : My pêché mignon is definitely soy chai latte. I try not to make it a habit but with the cold days coming I can't resist this warm gourmet beverage. Alexander : a good cup of coffee and French pastries!
8. What is the best piece of advice you've received when it comes to taking care of your body/spirit - Quel est le meilleur conseil que vous ayez reçu pour sentir bien dans vos baskets (body & mind) ?
Tatiana : Take care of myself as much as possible by doing yoga, living a healthy life but also accepting to have some less healthy choices and still being happy with myself, never regret any choice that you are taking.
Alexander : The best advice was when Tatianas told me to try yoga! It has changed my life not right away but eventually it did.
9. Personal mantra - Mantra personnel
Tatiana : Your body is your temple, it's your home and you must decorate it.
Alexander : Yoga is not perfecting the posture the first time, it is about about how you felt in the process. Everything else will fall into place sooner or later.
Prenez rendez-vous pour une
consultation Holistic Skin™
avec une praticienne holistique formée au protocole Holistic Skin™ au concept store